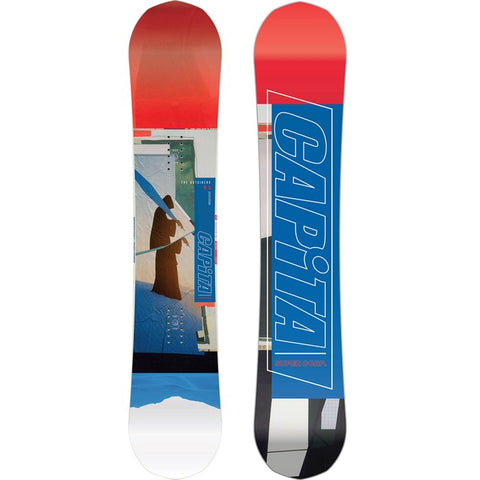 Capita Outsiders Snowboard 2024
The CAPiTA The Outsiders Snowboard is designed for lacing transitions, discovering side hits, and perfecting your own style of riding. This board has tons of pop and responsiveness thanks to a unique Park V1 Profile which delivers positive camber under almost the entire length of the board, with flat sections before the tip and tail. Now all you need to do is try and control the little voice in your head telling you to go faster and bigger.
Park V1 Profile – The PARK V1 camber configuration zeros out a traditional camber approach 4 cm before the end of the sidecut. The small zero camber sections provide a more controlled ride while retaining the response and power of a cambered board.

Flex
Flex Rating – 6 (1 Soft - 10 Stiff)
Shape
Radial Sidecut – A RADIAL sidecut is a single radius design that allows your board to start and finish a turn on the same arc.
Core
FC Hover Core™ – Enhanced with Forged Carbon rods integrated beneath its core, the FC HOVER Core is extremely light and strong with excellent dampening properties.
Laminates
Technora™ + Flax Boosters – With an excellent tensile strength and fatigue resistance, Technora™ is an aramid fiber that functions as a shock absorber and energy source when integrated into a snowboard construction layup. CAPiTA has interwoven Technora™ with an extremely lightweight and all-natural Flax fiber to invigorate every construction combination with maximum turning and ollie power.
Holysheet™ Fiberglass – The HOLYSHEET™ fiberglass configuration features fiber weaves with a high tensile strength and low modulus of elasticity. With a higher roving count in the same weight of glass, you can have a stronger and more responsive board without adding extra weight. It features Triaxial fiberglass on top of the core and Biaxial fiberglass beneath, creating a perfectly blended ride while increasing strength and durability.
Magic Bean Resin – This advanced resin system has a bio-content of 60% renewable, agricultural raw material and is produced with no waste or greenhouse emissions. In production, it has a low-temperature requirement with a high yield output. Poppy, powerful, and extremely durable, MAGIC BEAN™ resin yields much stronger and more rigid qualities allowing a decrease in the wood core thickness. This means you get a lighter board while achieving higher energy return.
Base
Hyperdrive™ Base – Exclusively formulated, sintered, ultra-high molecular weight, ultra-high density polyethylene, custom engineered with special additives. Rated for the most depraved speed junkies only.
Edges
360 Degree HRC48 Steel Edges
Topsheet
PLT™ Topsheet Technology – PLT™ technology is exclusive to CAPiTA MFG and magically bonds the topsheet to an already pressed snowboard.
PAM16000™ Topsheet with Metallic Underlay
Graphics
Multitech™ Level 3 DeepSpace™ Silkscreen – The DEEPSPACE™ Design Theory takes advantage of the thickness of a transparent topsheet. Strategically layering ink on multiple levels from the top and the bottom imbues graphics with a sense of life through depth.
Binding Compatibility
Stainless Steel 2 x 4 Inserts
---
We Also Recommend