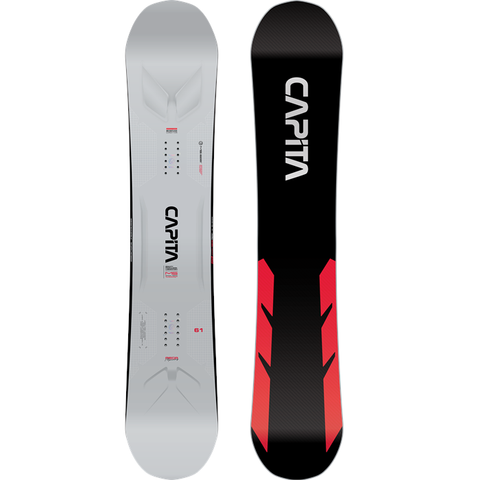 Capita Mega Mercury Snowboard 2024

The CAPiTA Mega Mercury Snowboard takes the all-round versatility of the already popular Mercury and slathers it with extra sauce. Laid up with a super poppy core, this capable deck is amped up and slimmed down with Capita's Megacarbon™ Array and Megalite Skin™ for lightweight performance that allows you take flight in any situation. Add in a new warp speed Moonshot Omni-Tune™ and you've got a board destined to thrive in both natural and manmade environments alike. Get mega, stay mega!
Resort V2 Profile – This revolutionary all-terrain shape provides the best of both worlds. It has a raised camber platform through the inserts to retain high-speed edge hold through variable terrain, elevated contact points to land and float in powder, and Flat Kick tip and tail arcs for faster, more aggressive transitions.

Flex
Flex Rating – 6.5 (1 Soft - 10 Stiff)
Shape
New Age Directional – NEW AGE DIRECTIONAL sidecuts are progressive sidecuts, which also incorporate a reverse sidecut arc in the midsection of the board. Due to a reduced effective edge as a result of hybrid camber shapes, this reverse camber arc provides a point of contact to retain control throughout the turn and is affectionately referred to as DEATH GRIP™.
Core
FSC® Certified 3D Thermopolymer Starship Core™ – Utilizing an advanced electronic sorting system allows Capita to select mega-premium, reforestation certified, Poplar graded by weight and grain consistency. Comparable to Paulownia in strength to weight ratio, this core retains the poppiness of Poplar, and then achieves a signature feel by adding bonded post-consumer recycled Thermopolymer channels to form an advanced hybrid core. This mega-premium core will blast you into space and beyond.
Laminates
Triax/Triax Holysheet™ – The HOLYSHEET™ fiberglass configuration features fiber weaves with a high tensile strength and low modulus of elasticity. With a higher roving count in the same weight of glass, you can have a stronger and more responsive board without adding extra weight. Triaxial fiberglass is placed on both the top and bottom of the core providing maximum strength, durability and performance.
Megacarbon™ Array – Mega-wide carbon tape on both top and bottom of the woodcore = four times the power and response of previous carbon additives.
Base
Megadrive™ Base – Striving to kit out the MEGA line-up with the most advanced and premium components, the all new Megadrive™ base is as fast as science can make it. This is a pure race base composed of HMW polyethylene modified with high carbon content and special fluoro additives for lightspeed gliding in a wide range of conditions.
Moonshot Omni-Tune™ – Aftermarket performance stone grind structure straight from The Mothership, optimized for regular and switch riding.
Topsheet
Megalite Skin™ Topsheet – Super thin yet durable matte lamina for 60% weight reduction over Capita's regular topsheets.
PLT™ Topsheet Technology – PLT™ technology is exclusive to CAPiTA MFG and magically bonds the topsheet to an already pressed snowboard.
Binding Compatibility
Stainless Steel 2 x 4 Inserts


---
We Also Recommend