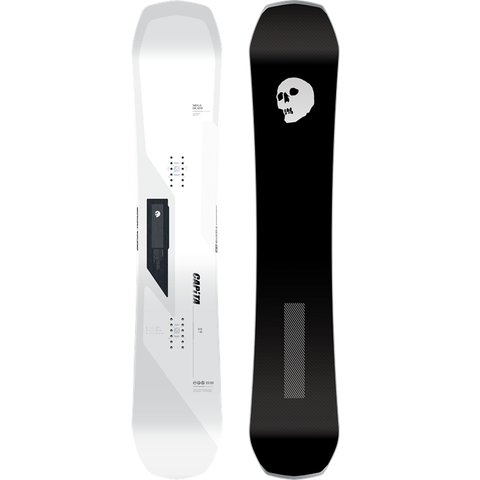 Capita Mega Death Snowboard 2024
Contrary to reports, the CAPiTA Mega Death Snowboard does not in fact come with a Marshall amp and a cord. That means you'll have to supply your own feedback drenched soundtrack, but heavy metal riding comes as standard. The Mega Death is loaded up to the eyeballs with Capita's finest tech for an ultralight ride that's capable of tackling the gnarliest lines on planet shred. It's a snowboard shaped power chord screaming out into the alpine void – all it needs is a freeride specialist to take care of the melody. Rock on.
Alpine V1 Profile – The ALPINE V1 Profile design features mid-body camber with a flat tail and a reverse cambered nose. This allows for tons of pop and stability on hard pack while increasing float and landing power, improving the rider's performance in deep snow. The camber runs longer in the tail—providing extra power for the ascent or for larger riders drawn to a dedicated wide series.

Flex
Flex Rating – 6.5 (1 Soft - 10 Stiff)
Shape
Death Grip™ – Death Grip™ is a design theory that incorporates a reverse sidecut arc in the midsection of the board. This reverse camber arc provides a point of contact to apply pressure and retain control throughout the turn in both freestyle and freeride settings.
Core
FSC® Certified 3D Thermopolymer Starship Core™ – Utilizing an advanced electronic sorting system allows Capita to select mega-premium, reforestation certified, Poplar graded by weight and grain consistency. Comparable to Paulownia in strength to weight ratio, this core retains the poppiness of Poplar, and then achieves a signature feel by adding bonded post-consumer recycled Thermopolymer channels to form an advanced hybrid core. This mega-premium core will blast you into space and beyond.
Laminates
Megacarbon™ Array – Mega-wide carbon tape on both top and bottom of the woodcore = four times the power and response of previous carbon additives.
Inlaid Alloy Skid Plates – Reinforced with an ultralight skid plate, refined and reshaped to shave weight.
Base
Megadrive™ Base – Striving to kit out the MEGA line-up with the most advanced and premium components, the all new Megadrive™ base is as fast as science can make it. This is a pure race base composed of HMW polyethylene modified with high carbon content and special fluoro additives for lightspeed gliding in a wide range of conditions.
Moonshot Omni-Tune™ – Aftermarket performance stone grind structure straight from The Mothership, optimized for regular and switch riding.
Graphics
Multitech™ Level 5 DeepSpace™ Silkscreen – The DEEPSPACE™ Design Theory takes advantage of the thickness of a transparent topsheet. Strategically layering ink on multiple levels from the top and the bottom imbues graphics with a sense of life through depth.
Binding Compatibility
Stainless Steel 2 x 4 Inserts
---
We Also Recommend