Bent Metal Axtion Binding
NO RETURNS/ SALE ITEM/ FINAL SALE
The AXTION is a team driven, performance enhanced all mountain go to. Featuring the responsive dual band (dyadic construction) ankle strap that fuses flex and power for maximum comfort and response. Add to that a super comfy grip form toe strap, a uni-body nylon chassis and a solid asymmetric highback for increased rigidity and you're looking at top to bottom performance, comfort and reliability all day long. Get some AXTION!
Black
BENT and METAL on the backs... simple, bold, clean, white on black. Goes with any board, boot or gear imaginable... this design is bolts.
Black/White - Art by Nick Russian
Nick Russian brings vivid colors of splashing energy that spill out from the drive plate of a solid black and white colorway that will work well with any shred stick.
Flex
6 (1 Soft - 10 Stiff) – A medium-stiff flex makes for responsive all mountain performance.
Baseplate
Magnesium Fiber Drive Plate – Magnesium fiber, a UHMW core and an eco-sublimated top sheet material create a medium flex pattern for a broad range of conditions.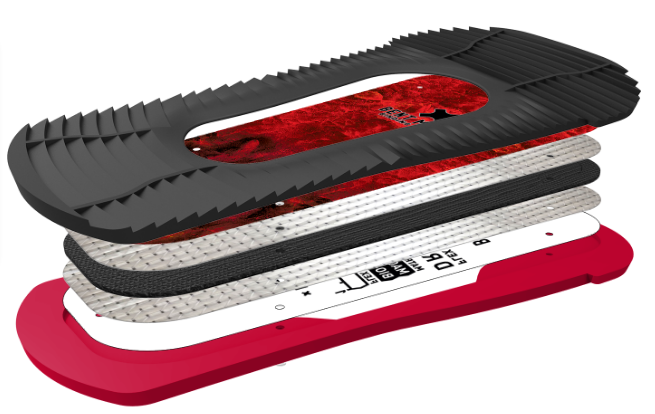 Uni-Body Chassis – Uni-body polymer design helps absorb vibration for a damp, smooth ride. Adjustable toe ramp.
Large Axis Disc – Included pivot disk is 2x4, 4x4, and Channel mounting pattern compatible.
Highback
Performance Polymer Nylon Highback – Engineered nylon polymer has a medium flex, well suited for all-around riding conditions.
The Cube Forward Lean Adjustment – This revolutionary dual durometer urethane dampening forward lean adjuster is fast and easy. Choose from 10 degrees, 14 degrees, 18 degrees, or 22 degrees of lean.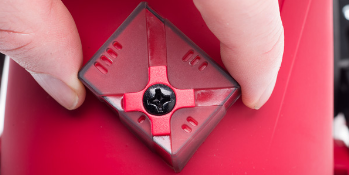 Straps
Power Ankle Strap – Featherlight padding combines with a lightweight structural core for a supremely cushioned ride.
Grip Form Toe Strap – A lightweight molded grip secures the strap in place, with a flexible secondary panel forming to the boot for dynamic performance.
Buckles
Forged Aluminum Buckles – Reliable forged aluminum buckles are lightweight and hardened for ultimate strength and smooth entry.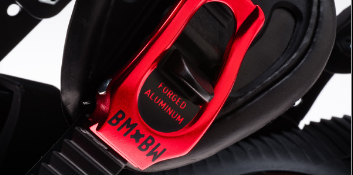 ---
We Also Recommend